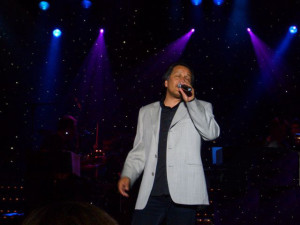 "I'm here to take people on a musical journey. I'm not here to feed my ego, I'm here to make people dance and have a good time."
 Bobby Cruz, the keyboardist/vocalist, believes in giving people what they want. From the early roots of Rock and Roll to the sophisticated world of computerized synthesizers, Bobby does it all!
     After years of professional road, stage, and studio work, Bobby has amassed a valuable knowledge of "what works and what doesn't." Touring and recording with Bill Medley of 'The Righteous Brothers', he has built a loyal following of friends and fans that love to have fun.
     Playing keyboard and handling lead vocals, from Dion's "The Wanderer", to Carlos Santana's "Smooth", to Bruno Mars' "Uptown Funk",  Bobby covers it all. Bobby appears on the Richard Simmons' video "Sweatin' to the Oldies Part III". He also appears on the follow-up video, "Sweat and Shout".
     Bobby also acts as musical director and featured vocalist for such shows as
Bill Medley's "Rock Around The Clock", his own classic rock show, "The Heart of Rock and Roll",  "A Tribute to Elvis", with Tom McAvay, and "Chase and the Hits", with Jason Chase. He is the musical director for Lolita Robinson, a popular speaker at churches and seminars. He arranged vocals and music for the vocal group "McKenna Medley and Streetwise", and does musical arrangements for many other artists.
     Bobby has performed for hundreds of private and corporate parties, weddings and charity events. He has recorded with many top name performers. A recent endeavor has earned him a double platinum award for sales of The Righteous Brothers' last release, "Reunion".
     Bobby just sang background vocals and arranged horns on The Righteous Brothers' new album.
     Playing keyboards and performing lead and background vocals, Bobby Cruz is an asset in any recording studio or on any stage.
FOR BOOKING INFORMATION CALL: 949-235-4596
music@bobbycruzmusic.com